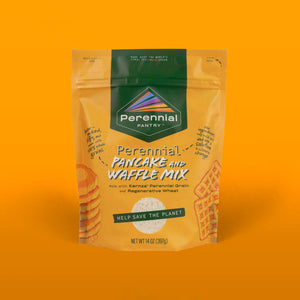 Do you want to eat cleaner grains AND transform our agricultural system? Good news for you: this tasty revolution is happening right here in our community, at Perennial Pantry, an innovative local business started by our friend Christopher Abbott.
Kernza® Perennial Grain and regenerative wheats blended together bring delicious, clean ingredients and a meaningful climate solution to your kitchen. This 100% whole grain mix offers sweet, nutty flavors that pair wonderfully with all of your favorite pancake and waffle toppings. 
Kernza is a cousin of wheat that is transforming grain agriculture. Unlike other grains, Kernza is a perennial, so it stays rooted in the soil year round. The crop's 10 foot roots are where the magic happens. The roots store carbon, prevent erosion, and strengthen soil and water health. 
Amazing, right? Let's get cooking and help save the planet! 
1x 14 oz bag contains 3 cups of mix. 1 cup of mix makes 8x 4" pancakes. 24x 4" pancakes per bag.
Combine 1 cup of mix with 2/3 cup milk or milk alternative, 1 1/2 Tbsp melted butter, and 1 large egg.